Public Safety
Oakboro Police Department
Oakboro's Chief of Police
T.J. Smith

Phone: 704-485-4214
Email: tjsmith@oakboro.com
(For non-emergency related inquiries or concerns contact the Police department at tjsmith@oakboro.com.)

Oakboro's Captain
C.E. Richards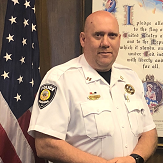 Please take a moment to browse this page to become familiar with our agency and the services that we provide. As always, my door is always open to you for any need that you may have. Please let me know about your concerns and ways that we may improve our service. It is my honor to serve you and this great community.
With Warmest Regards,
TJ Smith
---
Full Time Officers
T.J. Smith, Chief
Craig Richards, Captain

Jason Eschert, Patrolman
Bryce Kaus, Patrolman
Jeff Crisco, Patrolman
Jacob Smith, Patrolman
David Daigle, Patrolman
Ben Lummus, Patrolman
Part Time Officers
Carey Money, Part-Time Patrol Officer
Jerry Wallace, Part-Time Patrol Officer
Police Forms
Extra Patrol Form- Please fill out form and fax to Oakboro Police Department at 704-485-2439 or email.
Police Department Services
Business Checks
Home Checks
Free Gun Locks
Child Safety & ID Programs
Drug Education Programs
Cults & Ritualistic Crimes Program
Booze It & Loose It Program
Hot Mail & Hot Fax Crime Alerts
Senior Safety Programs
Safety Tips
Personal Safety
Vacation Safety
Home Safety
Solicitation Tips
Vision Statement
The vision of the Oakboro Police Department is to be recognized by the people we serve as a professional organization dedicated to customer service and committed to improving the quality of life in our community.
Mission Statement
The mission of the Oakboro Police Department is to provide responsive, accountable and professional law enforcement services, equally, fairly, and impartially, and to reduce crime, and the fear of crime, by joining in partnership with our community through open communication to improve the quality of life for each and every citizen.
Fire Department: Located at 320 College Street
Oakboro Fire & Rescue serves and protects the citizens of Oakboro and Red Cross. Oakboro City Volunteer Fire Department was established in 1938 and Oakboro Rural Volunteer Fire Department was established in 1958. They merged together in 1997 to become Oakboro Fire & Rescue. Connect with Oakboro Fire & Rescue on Facebook.